We are delighted to introduce a new project which aims to introduce flashes of colour and creativity onto bland utility cabinets and other voids throughout the streets of Tralee.

The project entitled Graft aims to enable local artists to transform these spaces into works of art, bringing vitality and creativity to the streets of Tralee, and ultimately creating a town wide gallery of public art.

The project follows similar community art initiatives which have been successfully developed in cities around the world which have made use of these unused public spaces by transforming them into artworks to help brighten up the streetscape and helping to make a more vibrant urban environment.
Thanks to funding from Kerry County Council's Arts Act Grant and Community Support Fund we have commissioned a number of artists from Tralee to create bespoke artworks for specific sites throughout the town.
The first three works which have being created by local artists Ciaraíoch, Kieran Herlihy and RAISE can been seen on Ivy Terrace, Barrack Lane and Edward Street respectively, with more works in the pipeline.
The project would not have been possible without the vision and support of Kerry County Council, in particular we would like to thank Megan and Kate in the Arts Office as well as Jean and Colm in the Tralee Municipal Office and not forgetting ESB Networks who permitted the use of their utility boxes.
---
About the artists & works
Ciara Kenny is a Kerry based cartoonist and illustrator working under the name Ciaraíoch. She tries to incorporate Irish nature, history, mythology, and particularly women into her work as much as possible.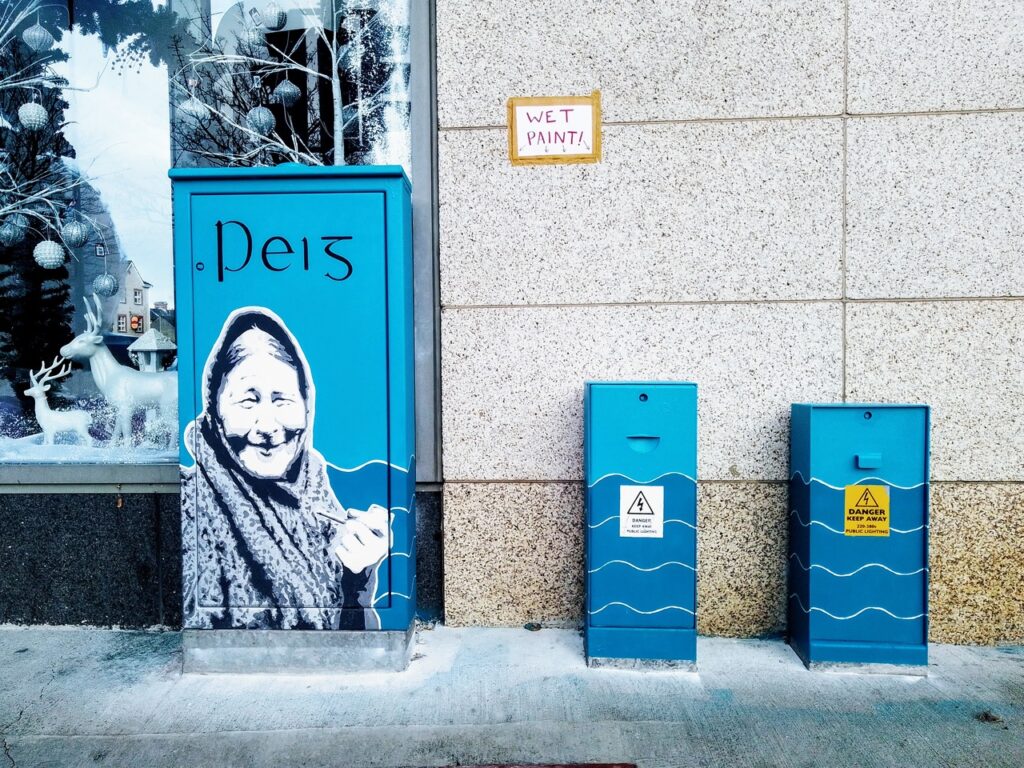 Ciara's portrait of Peig, located on Ivy Terrace is a tribute to one of the most influential and inspiring Kerry women.
---
RAISE is a street artist from Ireland whose stickers and artworks have featured in galleries, books as well as on streets around the world.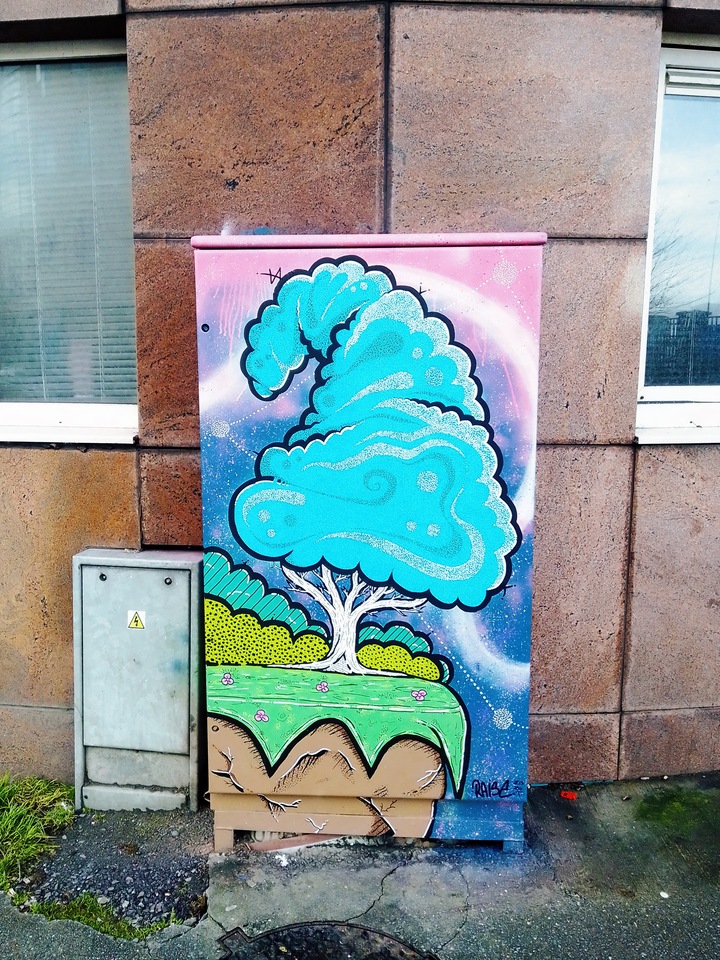 RAISE's work entitled 'Happy Place' which is located on Edward Street is part of a growing universe in their mind.
---
Kieran Herlihy is a Kerry based artist and illustrator. He works in mixed media and a variety of styles with a focus on the strange and quirky.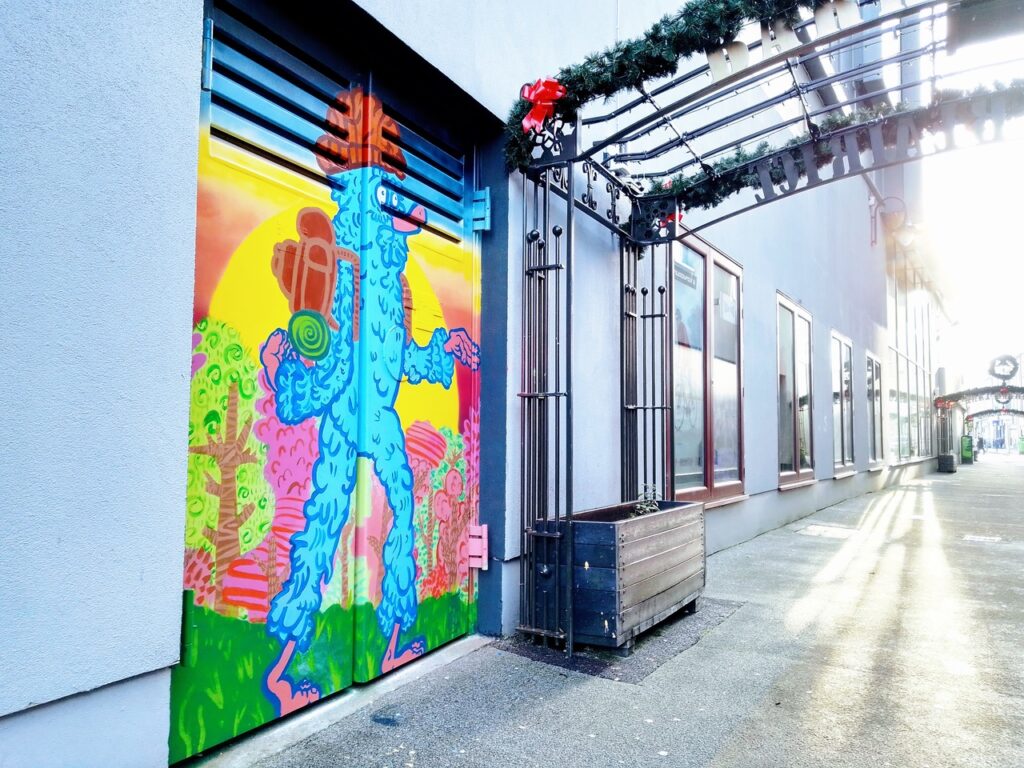 Kieran's piece entitled 'FIGBOOT strolls into town' which located on Barrack Lane is designed to catch the eye of pedestrians by providing a vivid and fun image to the lane. FIGBOOT, the blue Bigfoot is hiking into the town center bringing with him a big smile and happiness from the wilderness. Kieran wanted to provide a mural that would be stumbled upon and catch the eye., with a fun juxtaposition of a cartoon countryside and a make believe creature in the urban environment.
---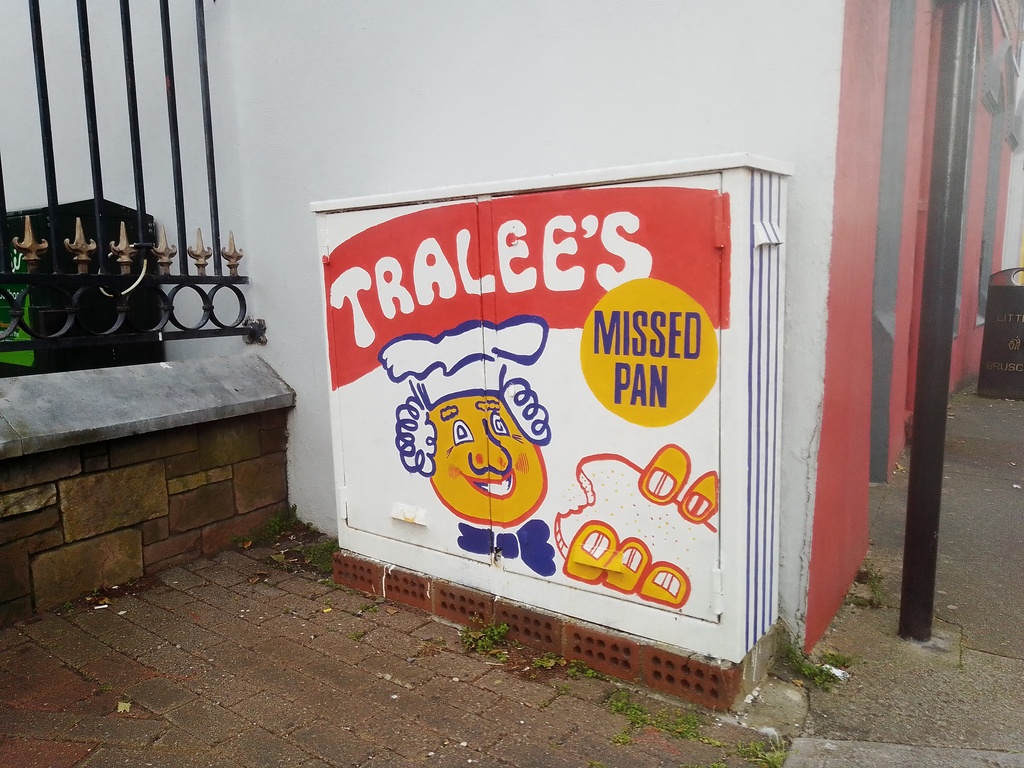 Castle Street is the site of King Dumb's tribute to Barry's bread and it's iconic packaging.
---
This project was supported by Kerry County Council's Arts Act Grant