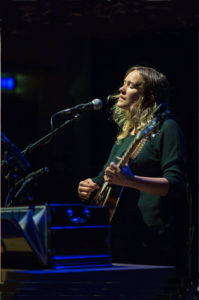 We are delighted to welcome Brigid Mae Power and Aoife Nessa Frances for an intimate concert in sublime surrounds of the Venetian Gothic Revival style Collis Sandes house on the October bank holiday weekend.
Singer-songwriter Brigid Mae Power was born in London to a big Irish family, then moved to Galway when she was twelve years old. In addition to the guitar, she plays accordion, baritone ukulele, piano and harmonium; creating hauntingly dreamlike soundscapes. She has toured throughout Ireland, UK and the US supporting renowned acts such as Lee Ranaldo, Richard Dawson, Alasdair Roberts, Peter Broderick and Ryley Walker.
Aoife Nessa Frances is a Dublin born musician and singer-songwriter, inspired by the poetic styles of folk music and psychedelic rock.